Coffee Snobbery
OK, I admit I'm a coffee snob. I love Starbuck's, but I prefer it in the coffeeshop. I like it strong and plain, with cream and a sweetener. No flavors but the simple coffee essence. OK-- maybe a shot of chocolate at most, but never in the morning.
It matters alot to me what my coffee comes in. The cup can't be too large, because then the coffee gets cold as one sips it. My favorite cups are not too small either, becuase then I have to rouse myself too often to get some more. I like to be still with my coffee. Eight to ten ounce mugs are just about right. It can't be too thick-walled, like stoneware or pottery, because the fresh coffee will have too much china to warm up and lose heat. Porcelain, so long as it is relatively thin-walled, is just about perfect.
The mug also needs to be beautiful. I like ones with beautiful classic flowers on them:

Or with a classical theme:
Here are a few others I like: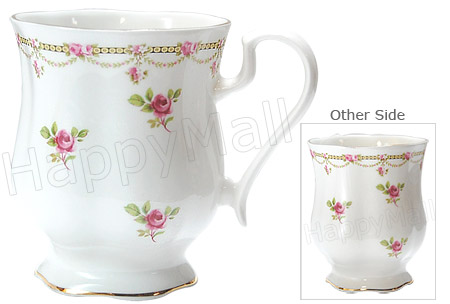 Gold is always a civilised touch, too. Hm. Need to do some more Web surfing to find something perfect to replace the mug I just broke.